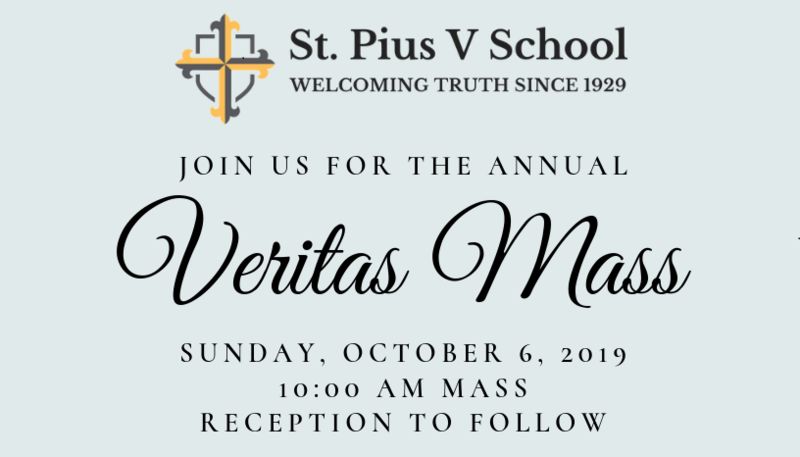 St. Pius V School & Church to Honor Miriam Sullivan Sloan '37 of Warwick, RI at Annual Veritas Mass on Sunday, October 6
On October 6, 2019, St. Pius V School & Church will honor Miriam Sullivan Sloan '37 of Warwick, RI with the 2019 Veritas Award. The Veritas Award is given to one St. Pius V alumnus each year for their witnessing to the truth of the Gospel in personal and professional life. Mrs. Sloan will receive the award in honor of her parents, William Joseph and Louise Claire Sullivan, and in gratitude for their love and sacrifice in providing her with a Catholic education.
Miriam Sullivan Sloan graduated from St. Pius V School in 1937 and was a student in one of the school's first ever classes to complete all eight years. Mrs. Sloan's parents devoted themselves to rearing their children in the faith and to serving others. Mrs. Sloan's father owned a religious article business called House of Rosaries and, each night, he and her mother would ensure their family recited the Rosary together. Mrs. Sloan's family was deeply involved in parish life at St. Pius V and remain very grateful to the parish for providing scholarships to Mrs. Sloan after she graduated so that she could attend a Catholic high school. Mrs. Sloan attributes her success in her personal and professional life to her Catholic education at St. Pius V School.
Miriam Sullivan Sloan '37 and her husband John "Jack" Sullivan were founding members of St. Kevin's Parish in Warwick and had four children, all of whom attended Catholic schools. In 2009, Mrs. Sloan received the House of Hope Hero award for her nearly 20-years of hard work helping to prevent and end homelessness in Rhode Island. Mrs. Sloan continues to dedicate her life to serving others through volunteerism and through promoting Catholic education throughout the state. St. Pius V School & Church welcomes the Rhode Island Catholic Community to join them in honoring Mrs. Sloan and her family on October 6, 2019 at 10:00 AM during their annual Veritas Mass.