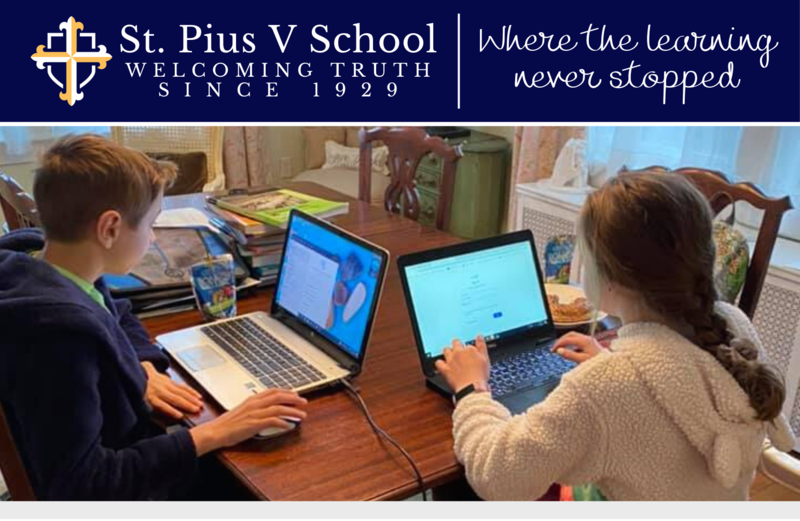 On Friday, March 13, Governor Raimondo asked all schools in Rhode Island to close on Monday, March 16, giving St. Pius V School faculty and staff just two days to on-board everyone with our Contingency Learning Plan. Thankfully, our staff adapted quickly to the changes. At St. Pius V, our school was closed, but the learning never stopped.
Within a matter of days, it was clear to our community that our teachers rose above and beyond the challenges of distance learning. The transition"was pretty seamless", as one parent remarked. Teachers adapted their lesson plans, posted daily assignments on their Google Classrooms, learned new online meeting technologies like Zoom, provided live and pre-recorded instruction, and made themselves available around the clock to students and families to help answer questions and provide encouragement. To maintain some semblance of normalcy, each day, Sr. Maria Francesca also continued to stream morning and afternoon prayer for our students, posting them on our YouTube channel.
Aside from providing rigorous instruction via distance learning, the St. Pius V School team was also determined to grow our families' faith and to build school community virtually. To do this, we organized several virtual activities.
We started SPV Kind, a virtual gratitude wall,
A week after our school closed, we organized Firedog Family Week, a virtual spirit week, for our students and families. Each day, families were encouraged to participate in various activities to have fun and connect with our other families online.
Firedog Fun was an extension of Firedog Family Week after it ended. Each day after spirit week until Holy Thursday, we texted families different prompts with activities to complete and asked them to post pictures on our virtual bulletin board.
During distance learning, our teachers were the stars of the show. Each day during Teacher Appreciation Week, our faculty received countless virtual messages from their students, ranging from photos of sidewalk chalk thank you's to videos of students imitating phrases their teachers typically said in the classroom. Sr. Maria Francesca also ensured our teachers felt appreciated and loved by making home visits to each of them and delivering homemade cookie trays!
On May 5, St. Pius V School participated in a global day of giving called #GivingTuesdayNow to raise emergency funds to support our families who found themselves out of work or in dire financial circumstances. In 24 hours, our donors raised $10,225, providing relief to 32 of our families.
Since May is the Month of Mary in the Catholic Church, Sr. Maria Francesca live streamed our annual May Crowning for our families. Sister also ensured that on important feast days that occurred during distance learning, like the Feast of the Annunciation and the Feast of the Ascension, families had opportunities to grow in their faith by praying the Rosary, joining in on virtual prayers, etc.
Despite the pandemic, Mrs. Wilkins and Mr. Carroll continued to work on our community garden, providing instruction to our Growing Gardeners club by making short Growing Gardeners Webisodes, depicting the various stages of garden work. The webisodes can be found on our YouTube channel under the "Growing Gardeners Club" playlist.
After requests from our student council and many families, we decided to host a virtual Walkathon, our annual peer-to-peer fundraising campaign for our families. Our student council officers thought our students would "feel good" about being able to do something positive for their school, and it certainly did! We livestreamed the Walkathon and had a timely theme just in time for the Feast of the Ascension: "Walk with your feet on Earth but in your Hearts be in Heaven", a quote by St. John Bosco.
Our Student Council organized Virtual Field Days for our school, bringing this beloved community tradition to our families in a unique way this year.
And last but not least, we threw a social distancing 8th Grade Graduation Parade. Families drove around the school celebrating our graduates while they basked in their accomplishments and said goodbye to their friends.
As you can see, we were busier than ever before this Spring. Our doors were closed, but the learning never stopped. And despite the pandemic, St. Pius V School's Firedog Family emerged stronger and more close-knit than ever.